Private William Barrie
Waratah March Volunteer
Service Number 5036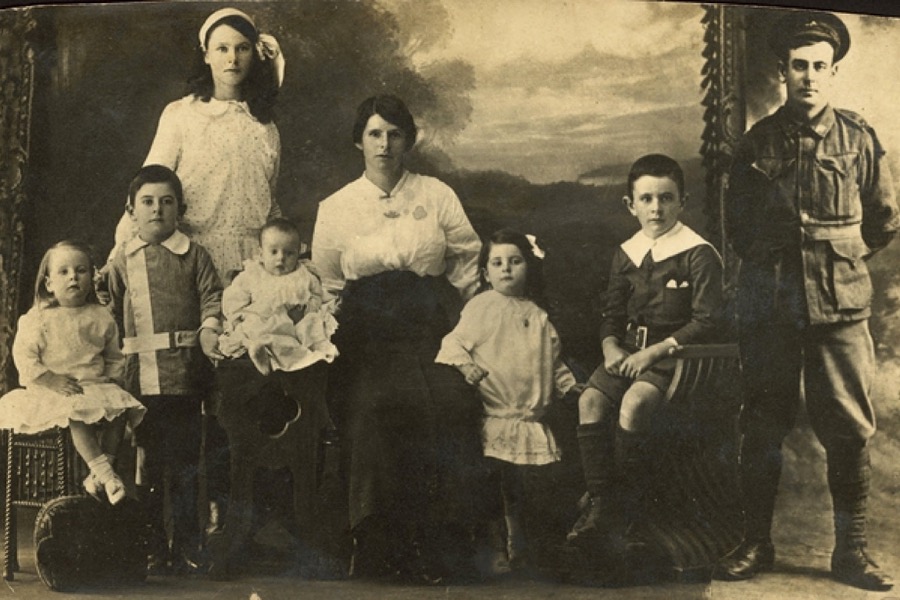 The Barrie Family, from left: Lorna Margaret, Robert, Vera May, Nancy Waratah, Mrs Eliza Bertha Barrie, Jean, William, Pte William Barrie.
William Barrie was born in Congupna, Victoria, in 1878. A miner, he was living in Helensburgh North in 1915 with his wife Eliza and six children, Lorna, Robert, Vera, Nancy, Jean and William when he decided to volunteer for overseas service in the First World War. He chose to join the Waratah Recruitment March at Helensburgh on 15 December 1915 and was cleared for enlistment by the Examining Medical Officer, Captain Selwyn Harrison. Barrie marched with the Waratah volunteers to Sydney where he was enlisted into the Australian Imperial Force at Liverpool on 20 December 1915. After three months of military training at Liverpool Camp, he returned home on a short spell of leave. Sadly, this 'portrait' is a composite photo. William Barrie departed for overseas service on 1 April 1916, Nancy Waratah was not born until 6 December 1916. A close scrutiny of the image shows that the figure of William Barrie has been fitted in on the end of the image.
On 1 April 1916, Private Barrie (Service No 5036) embarked on board the SS Makarini with the 16th Reinforcements from Sydney. He was disembarked at Suez on 2 May 1916 and sailed on the SS Caledonia to Alexandria and then to Marseilles, France, where he was disembarked on 17 May 1916.
Private Barrie joined the 1st Battalion on 24 July 1916. He was wounded in action (right hand) on 8 April 1917 and was hospitalised. His wife Eliza was sent the following cable "REPORTED PRIVATE WILLIAM BARRIE WOUNDED WILL ADVISE ANYTHING FURTHER RECIEVED."  He rejoined his battalion on 10 May. On 29 August 1917, he was given leave to the U.K. returning to duty in Belgium on 19 September. Two weeks later, on October 4, he was involved in an attack on a German pillbox and was listed as "Missing in Action". 

Sometime later, probably in December, Eliza Barrie received the following letter and her husband's effects from Sergeant Campbell: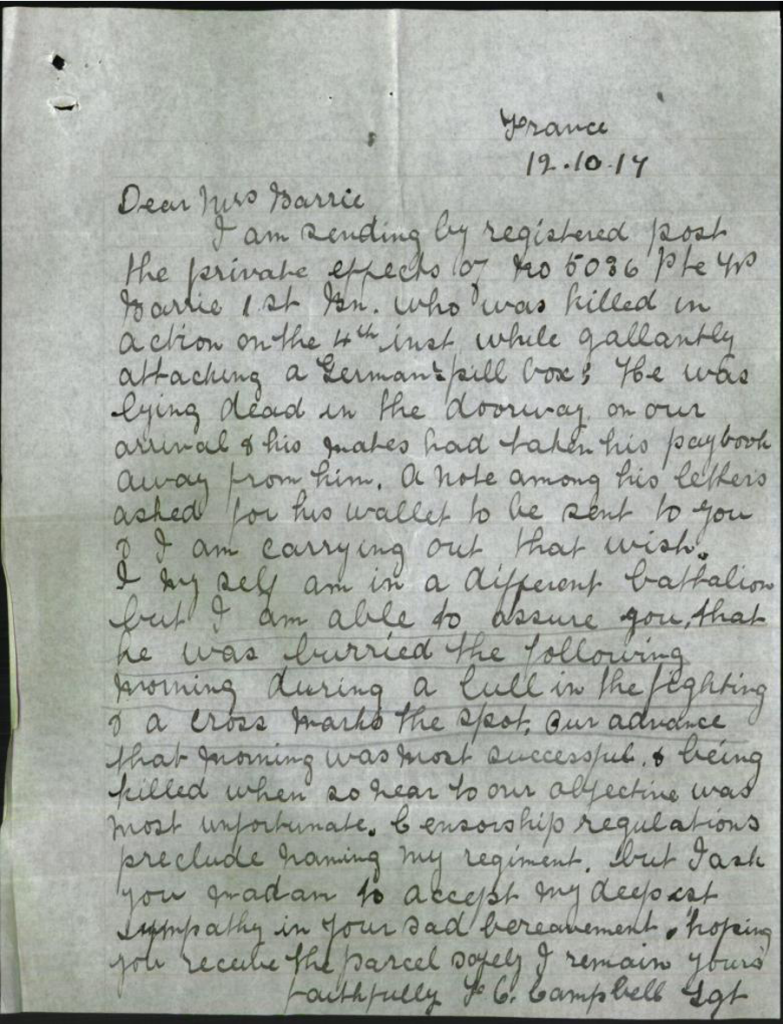 Another letter was received from Lieutenant Mortlake: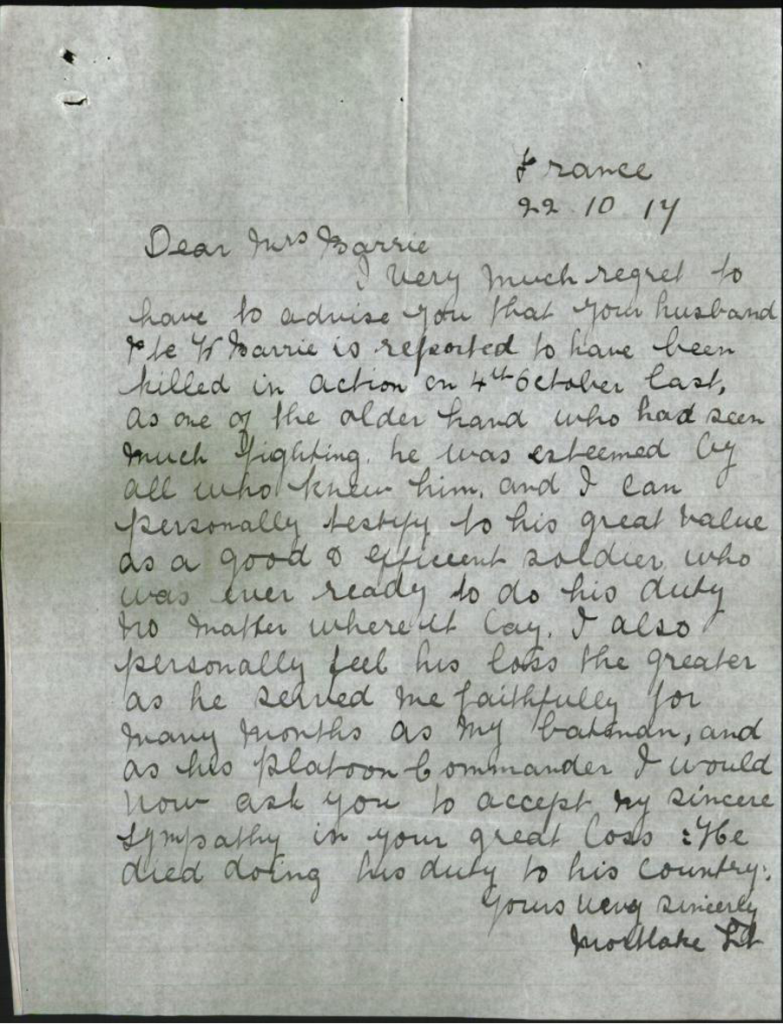 Distressed and perplexed, Eliza wrote to the Base Records Office on 21 December 1917:
"Dear Sir,
Some few weeks back I received a cable from you stating that my husband No 5036 Pte W Barrie was missing from the 4th October last. I am now sending you copies of two letters that I have received from France by this last mail. Kindly make enquiries as to how the mistake has been made.
Yours sincerely,
Mrs Barrie
Helensburgh
South Coast"
On 2 January 1918, the Base Records Office acknowledged receipt of Mrs Barrie's letter and requested the letters sent by Sergeant Campbell and Lieutenant Mortake be forwarded to the office. On 6 February, the Base Records Office sent an advice that "no further official news has yet been received… I shall be glad if you will return this letter to me with a statement as to whether you have obtained any news of the soldier from any other source." Eliza wrote back
"Dear Sir,
In reply to this Notice I might state I have already written and told you all the news I have had & also sent you the letters I received from France informing me that my Husband was killed on Oct 4th 1917. I have received the letters back from you and was also told that a cable had been sent to London to find out all the particulars. Kindly let me know if it is necessary to send those letters back again.
Mrs E B Barrie
February 9th 1918."
Understandably, Eliza was anxious to receive a death certificate and then a War Pension. On 4 January 1918, the Grand Order of Oddfellows (Black Diamond Branch, Helensburgh) tried to assist her by sending a letter requesting "a certificate of the death of Private William Barrie No 5036 C Company 1st Batallion [sic] who has been reported missing in action."
At the end of January 1918, Sgt. Campbell and Lt Mortlake lodged official statements leading to a cable being sent to the Base Records Office on 21 February 1918 saying "Concerning 5036 W. Barrie, 1st Battalion. Your A.R.12556 Nothing to prevent finding deceased."
On 4 March 1918, the Australian Coal and Shale Employees Federation also sent a letter to the Base Records Office to have the matter finalised.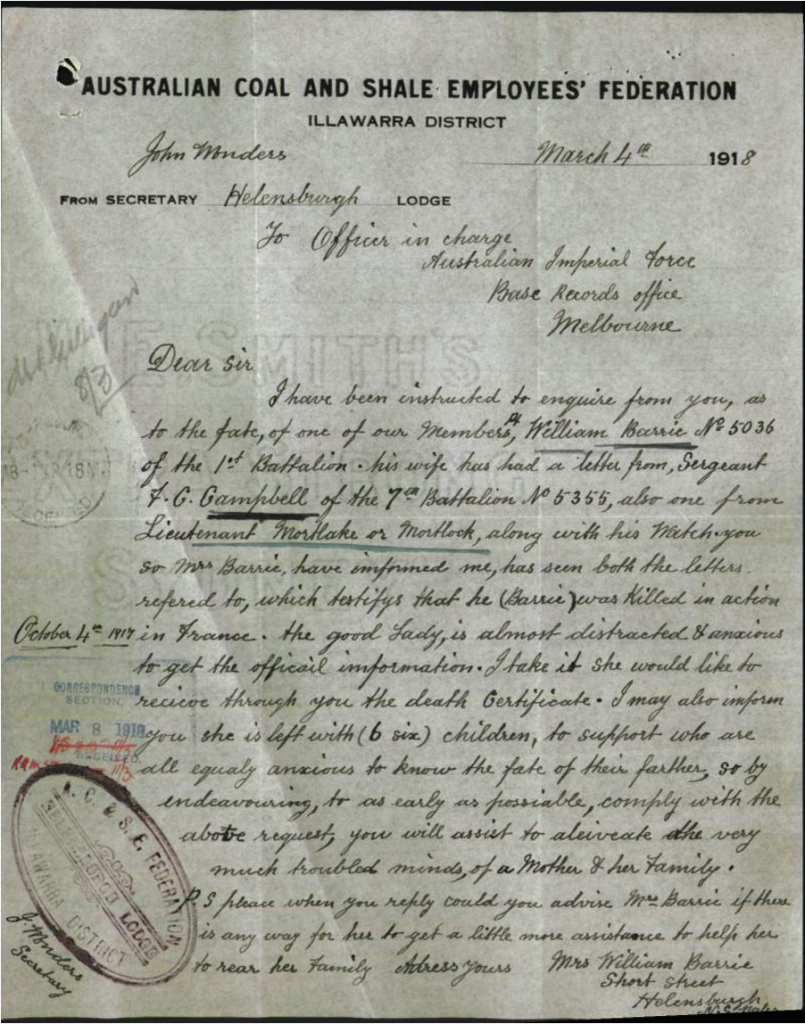 It's difficult to understand the workings of the Base Records Office, however, it is likely they were waiting for a Court of Enquiry ruling. Although they had the cable dated 21 February saying there was "Nothing to prevent finding deceased", they wrote to Mrs Barrie on 13 March 1918 saying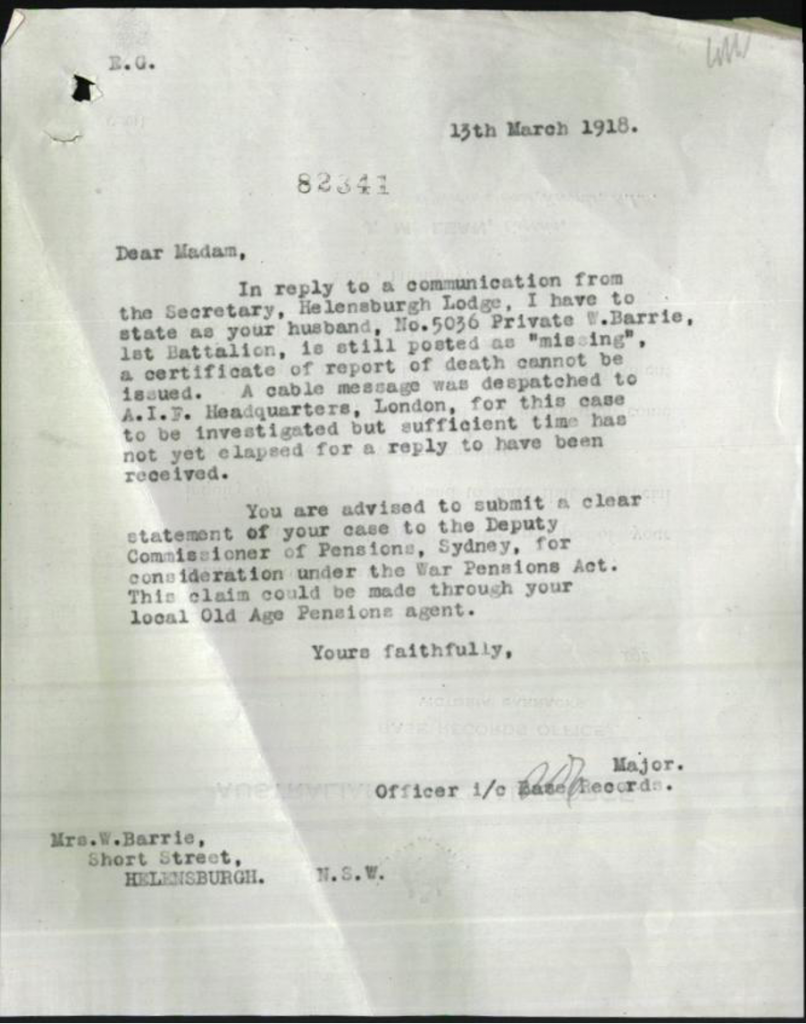 Nonetheless, a Court of Enquiry held on 22 March 1918, ruled that Private Barrie had indeed been "KILLED IN ACTION" The paperwork, however, wasn't signed off by the Adjutant-General's Office until 3 April 1918.
Meanwhile, Eliza applied for a War Pension which was granted at the rate of 3 pound and 5 shillings per fortnight from 14 March 1918 ($235.10 per fortnight in today's currency (2013)). The minimum wage in 1919 was 8 pounds and 12 shillings per fortnight. A Certificate of Death for "the late No 5036, Private William Barrie, 1st Battalion" was sent on 24 July 1918.
Postscript
Every deceased First World War Australian serviceman was entitled to a memorial plaque and memorial scroll supervised by the Graves Services Unit. Eliza's troubles with the Base Records Office arose again in May 1921 when she was advised
7 May 1921,
Dear Madam,
I regret very much that, notwithstanding the efforts of our Graves Services Unit, we have so far been unable to obtain any trace of the last resting place of
The late No 5036, Private Wm. Barrie, 1st Battalion.
And, so that no possible source of information shall be overlooked, I shall be much obliged if you will let me have on loan any letters or communications that contain any reference to the circumstances surrounding his death, particularly the exact locality at which it occurred, or where he was last seen alive. Of course any information you may have received as to his burial would be of the greatest assistance. The reason these steps are being taken is to identify, if at all possible, those bodies that are being recovered but which have nothing on them to definitely establish identification, and thus obviate the necessity of interring them in the new Military Cemeteries under the heading "An Unknown Australian Soldier."
Only those portions of any letters having a direct bearing or reference to the above need be forwarded. They will be carefully preserved and returned without delay.
If you have nothing that will help, would you kindly let us know, so that we can advise the overseas authorities.
Thanking you in anticipation,
Yours faithfully
Eliza, now Mrs Collins, replied
"Dear Sir,
I am sending you the only letter I have in reference to my late husband's death and burial.
Yours faithfully, Mrs E B. Collins (nee Barrie)"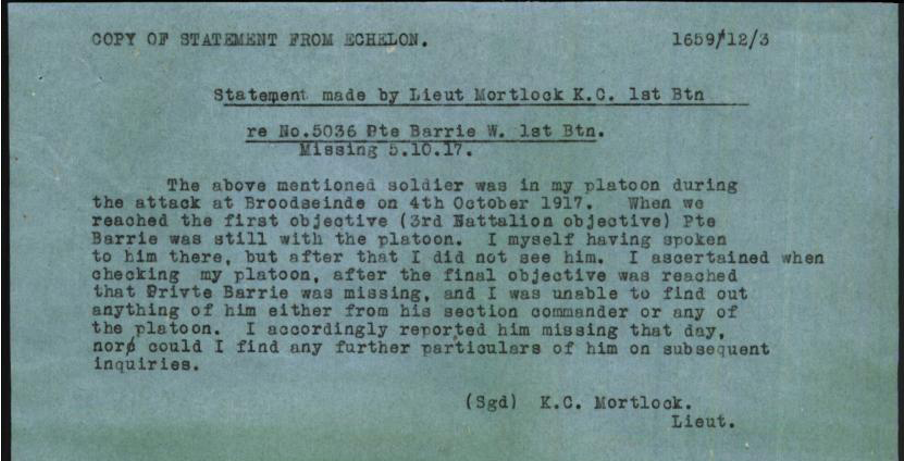 A copy of this letter and official statements were already in William Barrie's file. The place where he died was specifically identified as Broodseinde by Lt. Mortlake in his official report
In his letter, Sergeant Campbell attested that a cross marked the spot where he was buried.

After confirmation from London, the following notation was subsequently added to the file.