I was born in 1925 in Helensburgh and lived at No. 1 Foster Street. My father was James "Jim" Davies born 1881 Treherbert in South Wales UK, and my mother was Maryann Williams born 1881 also of South Wales UK. My father and his cousin David Miles left Wales in 1912 to work in the Helensburgh pit. They first lived with their Uncle David Collins born 1872 in Treherbert and his wife Elizabeth Collins (nee Somerson) for a short time then got their own Batch cabin. In the depression dad had to help make Lady Carrington Drive. Dad worked underground for a while but became an Ostler which means he looked after the horses. He learnt a lot about horses from his Uncle Edward who was a carter for the brewery, and Uncle William Collins who was a horse dealer/licenced Hotelier. The manager of the pit even asked him to do an autopsy as dad said the horse was dusted from the mine and he was right.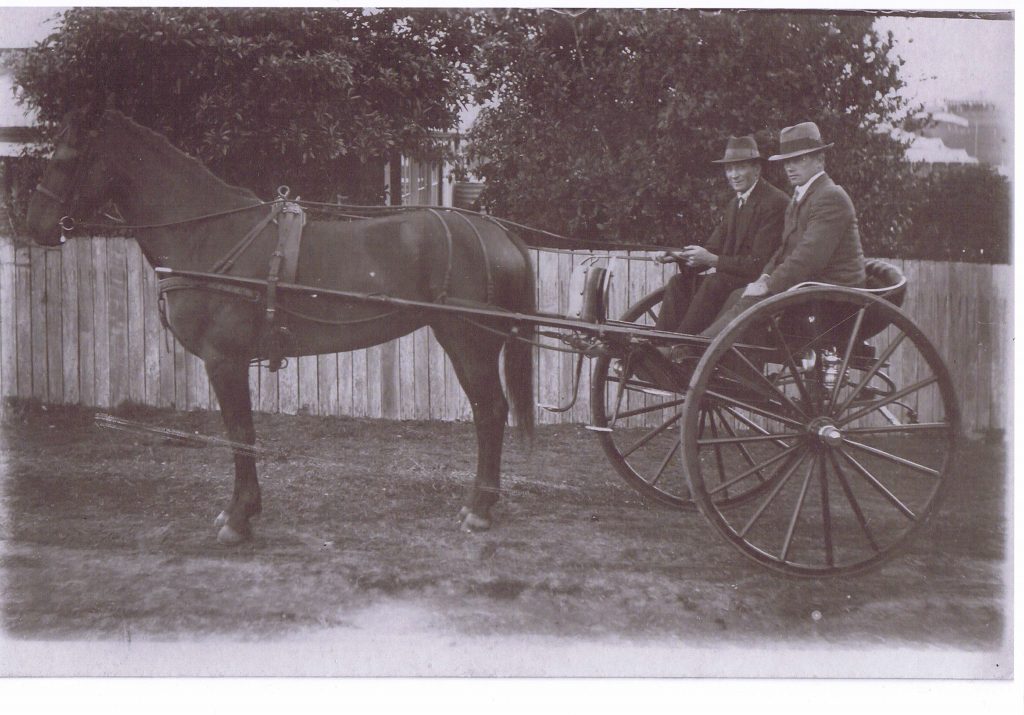 James Davies (left) with 'Shinks' Donovan & Sally the horse.
Dad was the next thing to a vet. Anyone with a sick animal would come around but his real love was horses. He had a couple of trotters, one called Rio-hou she won 1st place on 29 April 1928, and 2nd on 29 August 1928 at Harold Park in Sydney. He also had Houas-Nance. She won a ribbon at Windsor races but took ill the next day and had to be put down. Sally was his favourite horse to take up the town. He even had a full-size race track made at the old Sanitation Depot. Dad returned to Wales to marry his sweetheart Maryann. On their return Maryann cried for Wales and family. Many tears were shed until I came along. Mum spoke mainly Welsh and dad was in the Welch Choir – he loved to sing.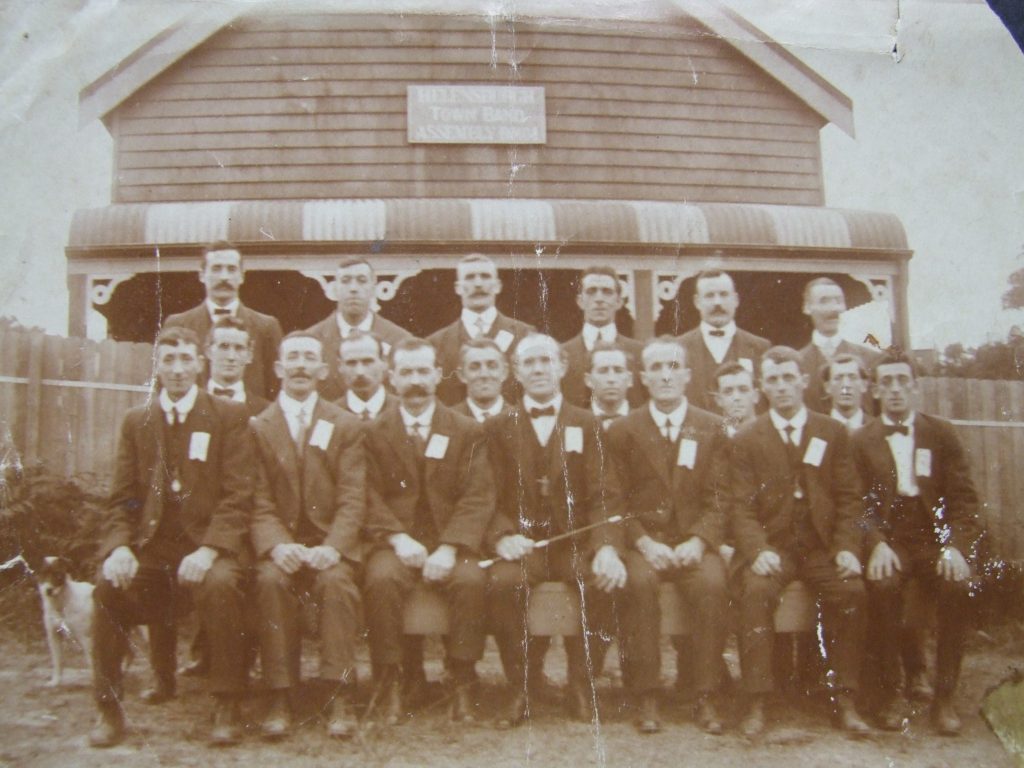 James Davies (bottom left) with the Helensburgh Men's Choir, in front of the Band Hall
My life at Helensburgh was wonderful, lots of freedom. I loved to pick bunches of bluebells from the bush, and playing with my friends. We'd play cricket and a game called Rounders at the land between the Finney's and Griffith's places. We'd bring a few potatoes wrapped in foil to put in the fire. The little dam about 15 minutes' walk from home was great fun. I'd go with Dorris and Gladys Freebairn, Ann and Arthur Finney, Sam Griffith and a few others. We used to jump off a stone platform into the dam. There were no goings on in those days. Dorris, Gladys and I used to catch the train to Lilyvale and walk to Garie where we would spend the weekend in one of the Humpies.
I remember Mr and Mrs Luck owned the butcher shop in Foster Street. We were also the first ones in the street to get a fridge, quite a talking point. Now and again Dad would take me up the town in the sulky. We would park at the back of the Workmen's Club. I'd get sixpence to get an icecream at Mrs Prosser's – she had the lolly shop, it was such a treat. I would go back to the sulky and wait for dad while he had a chat and a beer at the club.
The family used to go to the Collins family who lived in Parkes Street near Halls Road and have a sing along which I loved. In war time a dance was held on Friday nights to raise money for the war. Betty Morgan used to play the piano by ear, she was very talented. I left school at 14 years. My first job was at Railway Square Sydney. Gladys Freebairn and I got a job in a Millinery factory. When it closed down I got a job as a seamstress in the same building. I lost my mother at 18 years. I had to work and keep house as well as looking after dad who I lost in 1957. In 1954 I married Sydney White. I had a son, Graham, in 1956 and a daughter, Jennifer, in 1958. We moved to Peakhurst in 1959 but often returned to Helensburgh to visit friends and dad's cousin Lizzie Baker (nee Collins). I now live at Bray Park in Northern NSW aged 92 ¾.
Transcribed by her daughter, Jennifer White,  27 June 2018