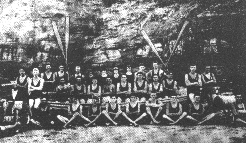 Australia is not only blessed with some of the finest surfing beaches in the world, but also has an elite and unique body of men and women to guard them – the Surf Life Saving Association of Australia.
Aged 16 to 60 years, the Association's members risk their lives regularly in saving swimmers in difficulty and voluntarily give up countless leisure hours in training and patrolling our beaches for the safety of othes.
The life saving movement's motto, "Vigilance and Service" is a proud and respected one from Cape York to Tasmania, from Brisbane to Perth, and one of the oldest of these clubs is the Helensburgh-Stanwell Park S.L.S.C.
Under its first name of Little Bulli, Stanwell Park was promised to Matthew Gibbons in 1824 for a grazing run of 1,000 acres. Today, however, it is regarded as one of the prettiest beaches on the South Coast.
The Surf Club was formed on 11th February, 1908, and thus became one of the first Surf Clubs formed in the Commonwealth of Australia.
Two months after its foundation, the club gave a display at Stanwell Park before a large crowd and this was followed on 2nd May, but a display at the local beach by twelve members of the Bondi Surf Bathers and Live Saving Club.
The first club accommodation consisted of one room attached to a kiosk on the beach but, in 1909, a clubroom was built from funds and loans from members, at a cost of 40 pounds ($80).
In 1954 the clubhouse was completely rebuilt by the Wollongong Council with club funds and more loans from members. The cost was some 2,000 pounds.
In 1978 Wollongong Council decided that this building was in such a state of disrepair that it was considered "a waste of funds" to renovate the existing building. Stage one of the new clubhouse was commenced in 1980 and the Surf Club is now able to boast one of the most up to date and modern clubhouses in Australia.