In the early 1930s Henry Halloran developed the Stanwell Tops Pleasure Park as a local tourist attraction. Notices on the Princes Highway, formally the Old Illawarra Road, directed travellers from the intersection of the highway with Lawrence Hargraves Drive, on the corner at Teapot Inn, down the drive toward Stanwell Tops.
The entrance of the park was marked with a large stone feature with a "Pleasure Park" sign on the top. The stone feature actually housed a flag pole and bollard from HMS Sydney. The traveller then drove into the park with kiosk and dance hall, overnight cabins, playing fields, mineral swimming pool, bush-walking trails, and wonderful lookouts over Stanwell Park and the ocean. The rock monuments were constructed by Bill Powers who was also responsible for the lookouts and trails. The development of the site continued though to the late '30s. The mineral pool gained a reputation for its therapeutic value.
Through the '40s the Park stagnated and the Tops was then subdivided in the 1950s leaving the kiosk and pool area as a reduced tourist attraction. The site was soon closed and an attempt made to turn it into a caravan park. This was opposed by the new residents. The site was sold in the late 1970s and developed as "The Garden of Peace", a place of meditation. It was again sold on and is being redeveloped as a function centre and motel.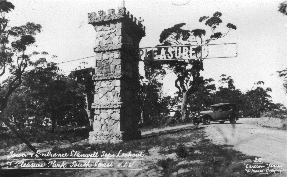 The entrance to the Park. This stone "monument" still exists, but without the sign. There was an attempt to remove it by the local Council, but this was opposed by the residents. It now serves as a War Memorial.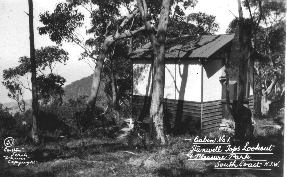 The small cabins were placed on the edge of the escarpment and provided an amazing view. They were a little pokey, even for the 1930s. One remained up till the turn of the Century.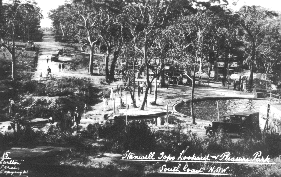 The main road into the Park with the pool and kiosk on the right. This road heads toward the entrance and the "monument".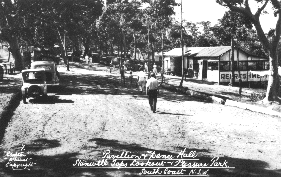 A closer shot of the kiosk and dance hall. The view from the kiosk was spectacular.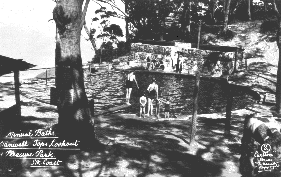 The mineral pool and changing rooms. The view from the front of the pool is outstanding. It looks over Stanwell Park and out to sea. The waters were analysed and a notice board listed the mineral content for bathers. In later years the pool became polluted when the adjoining area was subdivided and developed.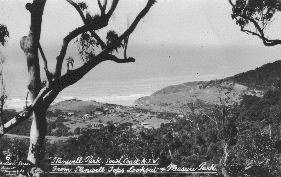 The view over Stanwell Park and out to sea. The view was not as good as the Bulli lookout, nor was the park as accessible.