On 2 Feb 1911, Fr Dunne of Bulli sent the following letter to Cardinal Moran.
St Joseph's Presbytery Bulli
Feb 2nd 1911.
My Lord Cardinal
I received your Eminence's letter this morning regarding the division of my district.
I would suggest that the hill on the south side of South Clifton Cemetery form the boundary between the future districts of Bulli and Helensburgh.
The priest that will be stationed at Helensburgh will have Waterfall Home, Helensburgh and Clifton to attend to.
The priest at Bulli will have Bulli, Corrimal and Coledale. Coledale is but a very small place. The priest at Bulli can easily attend these three places without the assistance of a Curate.
There is a small village named Tarrawanna very near Corrimal but belonging to Wollongong parish. If Fr Walsh is willing to let that go with Corrimal it would be a little addition.
I wish to sincerely thank Your Eminence for your great kindness in offering to divide this large district which was becoming too much for priests living so far from the Waterfall Home.
I remain Your Eminence's obedient servant J. P. Dunne
His Eminence Patrick Francis Cardinal Moran Archbishop of Sydney
Sydney
1911 – New Birth
In 1911, Holy Cross Helensburgh was established by the Archbishop as a parish in its own right and Rev Fr J Morris appointed as its first pastor. At this stage we do not have much information about most of our early parish priests, but as we continue to build up our parish archives we will attempt to learn more about them, as well as other priests and religious for whom information is scant.
Fr Joseph Henry Morris
Fr Morris was born in 1876 in Moruya, NSW. His parents were Michael Morris and Ann Breen.
"Early in life he showed a disposition to enter the sacred ministry and he was educated to that purpose. He studied for the priesthood at St Patricks Manly and was the 34 th student on the roll there. The 25 th from St Patricks to receive ordination he was ordained by Cardinal Moran at St Marys Cathedral in September 1899.
His first work on the mission was at Rozelle, where he earned the love and esteem of the people. He then went to Mt Carmel and two years later was transferred to St Francis' Haymarket as assistant. Later came temporary charges at Bulli and Richmond parishes, and when the district of Helensburgh was made a parish, Fr Morris was appointed first parish priest.
Then came Picton, after which he was asked to organise a new parish at Maroubra where he overcame many difficulties, and built a presbytery and church. Great and just tributes have been paid to Fr Morris for his ministrations to the suffering during the pneumonic influenza epidemic in 1919, and also for his solicitude for the prisoners in Long Bay Penitentiary. Fr Morris' final appointment was to the charge of the Hurstville parish where he came to be well-loved by the parishioners. It was there that he celebrated his sacerdotal jubilee in September 1924, when many came to wish him joy on the occasion. Two years ago he was stricken with the illness from which he died." (The Catholic Press, 26 December 1928).
Fr Morris died on 16 December 1928.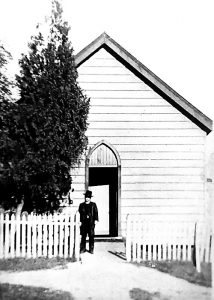 Fr Morris standing in front of the original Holy Cross Church in Helensburgh.
The first Baptism entered in the new register was that of Mary Agnes Glynn on 1 March 1911.
The report of the Episcopal Visitation on 18 September 1912 shows a civic population for Helensburgh and district of 4877. There were 625 Catholics including 139 families and 133 children of school age. Some other interesting statistics included 47 baptisms since the last Visitation (July 1909), 48 confirmed including 12 adults, and 9 marriages. No one had been denied Christian burial. It is also recorded that there were 158 people habitually absent from H. Mass. There were also 4 Professed Sisters of St Joseph in the parish. There were 73 children attending St Joseph's School of which 3 were non-Catholic.
In 1913 the first presbytery was built in Parkes Street.
1913 – 1916 Rev Fr M Kelly, Parish Priest
1916 – 1920 Rev Fr M O'Connell, Parish Priest (from Moruya)
1920 – 1922 Rev Fr R Darby, Parish Priest
1922 – 1923 Rev Fr W Harve, Parish Priest
Fr W. Hawe
Fr W. Hawe's New Work in Helensburgh
Monsignor Moynagh Blesses the Additions to Church
There was rejoicing at Helensburgh on Sunday, when the Catholics of the district co-operated with Rev. Father W. Hawe in welcoming the Vicar-General, Right Rev. Mgr. J. P. Moynagh, to the to the parish on the occasion of the blessing of extensive improvements to the church and to the convent conducted by the Sister of St. Joseph. The weather was far from congenial, nevertheless, the gathering was very representative and Mgr. Moynagh was tendered a most enthusiastic reception. At the public meeting the Vicar-General presided, and among others on the platform were Rev. Fathers Hawe, J. P. Power, Dr. Brooks, Dr. Featherstone, Mr. Hegarty, Mr. Doyle and Mr. Ettinghousen.
Father Hawe explained that the cost of the renovations was £305/5/1. The cost amount owing in connection with the St Mary's Cathedral Building Fund was £120. Other items included: Purchase of harness and repairs £27/11/5; sundries £17/5/5. Receipts for the quarter amounted to £96/0/1, leaving a balance of £370/2/8. Father Hawe thanked the gentlemen who had voluntarily worked every Saturday for some time past on the building. One gentleman in particular deserved mention – Mr. John Ettingshousen, who had drawn up the plans and specifications and given his services voluntarily and unselfishly week after week. The monetary value of his services amounted to at least £25.
The House of God
Mgr. Moynagh congratulated the parishioners on the great improvements to their church. If the church presented a slovenly appearance, was badly ventilated and appointed, and in a condition of neglect, the reasonable conclusion would be that there was an indifferent type of Catholic in that parish. The Catholic church was dearer to Catholics than any other church could possibly to other people, for Our Lord Himself dwelt in the Tabernacle of the Catholic church, and He had condescended to come down from Heaven to live in the midst of His people. The Catholic faith was a spiritual gift given to us by God Himself, and it was something that nobody outside the Catholic Church could understand. A good Catholic would not mind making a sacrifice for his religion. Sometimes a shower of rain would keep people away from Mass on a Sunday. This was more or less justified in this country, on the ground that it was a warm climate and it did not rain very often; but when it did rain the people were not provided with the necessary clothes and shoes to protect them from the wet. That was the explanation given all over the country for the absence of people from Mass in wet weather. Some were inclined to blame these people as indifferent Catholics, but he (the speaker) thought this was hardly fair. In other countries people had heavy clothes and strong boots, and were able to go about in any weather.
In conclusion, Mgr. Moynagh congratulated Father Hawe and his parishioners for taking such an active part in renovating and improving their church, and also those who kept the altar so beautiful. He hoped that every Catholic in the parish would do something, no matter how little towards the decoration of the church. He did not know any people who wanted the assistance of Our Lord more than the people in a mining district. They were more exposed to danger than anyone else, and they should never enter the mine without first offering up a prayer to God, and then accept God's providence, whatever it was to be, and God would stand by them. He hoped the day was not far distant when the increasing population of Helensburgh would enable them to have a much larger church than they had at the present time.
Subscription List
Father Power proposed that a subscription list be opened. He was only too happy to be present, in spit of the rain. Father Hawe had not been long in charge of the parish, and he should have the sympathy and encouragement of every person in the district. He was glad to have Father Hawe who came from the same county in Ireland as himself – a neighbour.
In supporting the motion Dr. Featherstone said that the church and the convent had been greatly improved, and it behoved them all to come to the assistance of Father Hawe, and help to defray the expenses. No individual had ever been the poorer for what he gave to the Church, and there was a great satisfaction in knowing that you had some little part in that work of religion. Any support ……..give to Father Hawe they would be pleased to give and he hoped that any future functions held in Clifton parish would have the support of the Helensburgh people.
The motion was supported by Mr. Hegarty, and carried unanimously. The collection realised £117/5/-.
Father Hawe expressed his personal apprecion of the generosity of those present, and called on Mr. Doyle to propose a vote of thanks to Mgr. Moynagh. Mr. Fegarty seconded the motion, which was carried by acclamation.
In reply, Mgr. Moynagh said he would go any distance to assist his former curate. When he heard of the renovations to the church and all that was being done, it was still further inducement to him to come to Helensburgh. He was exceedingly pleased at the generosity of the people present. There had not been one small subscription. He hoped that their zeal would continue, and that they would always keep up the good appearance of their church. In the speaker's own parish he had a huge Catholic population. They were not as well off as the people of Helensburgh, yet they were exceedingly generous. Their subscriptions were comparatively small, but they had spent thousands of pounds upon Church property, and not one of them was poorer than if they had not given a penny.
At the conclusion of the meeting Mgr. Moynagh gave Benediction.
Father Hawe requests us, on his behalf, to thank the clergy (four), who so generously helped him.
Catholic Freeman's Journal, 21 September, 1922